Loving Your Neighbor
Jesus calls us to love our neighbors as ourselves. None of us are surprised by that commandment. But how do we do that when we are literally discouraged from being in the physical presence of our neighbors?  Or, what does it look like to love our neighbors during a time of quarantine?   It will take some creativity and intentionality on our parts, but it's possible.
There are many ways to love our neighbors well at this time (and all times).  As a means of helping you to do so well, we want to highlight three things: 1) The primary biblical text calling us to love well, 2) A simple definition of biblical love, and 3) Three practical ways of doing so.
The Primary Biblical Text
Matthew 22:35-39 And one of them, a lawyer, asked him a question to test him. 36 "Teacher, which is the great commandment in the Law?" 37 And he said to him, "You shall love the Lord your God with all your heart and with all your soul and with all your mind. 38 This is the great and first commandment. 39 And a second is like it: You shall love your neighbor as yourself.
A Simple Definition
To love your neighbor as Jesus commanded means giving them that which is best for them.  
This can be tricky because your neighbor doesn't always know or want what's best for them and because, on a practical level, what's best for them changes in different seasons of life (like right now during the pandemic).
Three Practical Applications
What, then, is best for your neighbor right now?  Or, how can you practically love your neighbor well during the lock down?  Again, we want to offer three simple and practical ways you could love your neighbor today.
First, pray for them and share the good news of Jesus with them.  Ask God to cause your neighbor to feel their need for Him and then share with them the means of being reconciled to God–faith in Jesus Christ.  This is always your greatest need and always at the heart of loving them well.
Second, wash your hands, cover your coughs and sneezes, and stay six feet apart from them.  This might not seem particularly Christian, but as I tried to point out in the last post, God gave us this example in his leper colony regulations.   By all accounts, this is a serious virus that most affects the most vulnerable.
And third, print out this card and place it on your neighbors' doors with your contact info. The card gives several practical ways (groceries, errands, listening, prayer) to serve them during this time. Make it a family project to pass them out to the people around you. Even in a confusing time, we can still creatively find ways to love our neighbors. I found this idea from article by a guy in England. Thanks to Mat Adams, we were able to tweak the card slightly to fit our context.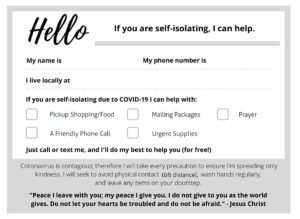 There will be some obvious and immediate needs that surface among our neighbors, but let's also encourage one another to think long term with our neighborhoods too. This can also be a time to build a foundation for future gospel ministry for the people around us too. Maybe you don't know your neighbors well. Take this time to introduce yourself. Offer to set up a future time for a meal. At a time when others around us are shutting their doors, what if we begin to stand out as people willing to help and engage our neighbors?

Several years ago I read a book called, The Art of Neighboring. One of the ideas that remains with me is to map out your neighborhood. The idea is to pay attention to the people immediately around where you live and work to get to know them in order to love them well and share the gospel (which is loving them). Some households you might know well and can fill in lots of information about them, but you might also discover you have a neighbor near you that you have never met or talked to. I'm a visual learner, so putting this on paper has been helpful to me. Here's a simple map to start learning who your neighbors are. Use it to keep track of names, ways to pray for neighbors or just ways to start conversations as you get to know them better.

<! --- Footer --->