JULY 12 2020
THE GLORY OF LEAVING MATTERS IN GOD'S HANDS
Genesis 13 / Pastor David VanAcker
So Abram went up from Egypt, he and his wife and all that he had, and Lot with him, into the Negeb. 2 Now Abram was very rich in livestock, in silver, and in gold. 3 And he journeyed on from the Negeb as far as Bethel to the place where his tent had been at the beginning, between Bethel and Ai, 4 to the place where he had made an altar at the first. And there Abram called upon the name of the LORD. 5 And Lot, who went with Abram, also had flocks and herds and tents, 6 so that the land could not support both of them dwelling together; for their possessions were so great that they could not dwell together, 7 and there was strife between the herdsmen of Abram's livestock and the herdsmen of Lot's livestock. At that time the Canaanites and the Perizzites were dwelling in the land. 8 Then Abram said to Lot, "Let there be no strife between you and me, and between your herdsmen and my herdsmen, for we are kinsmen. 9 Is not the whole land before you? Separate yourself from me. If you take the left hand, then I will go to the right, or if you take the right hand, then I will go to the left." 10 And Lot lifted up his eyes and saw that the Jordan Valley was well watered everywhere like the garden of the LORD, like the land of Egypt, in the direction of Zoar. (This was before the LORD destroyed Sodom and Gomorrah.) 11 So Lot chose for himself all the Jordan Valley, and Lot journeyed east. Thus they separated from each other. 12 Abram settled in the land of Canaan, while Lot settled among the cities of the valley and moved his tent as far as Sodom. 13 Now the men of Sodom were wicked, great sinners against the LORD. 14 The LORD said to Abram, after Lot had separated from him, "Lift up your eyes and look from the place where you are, northward and southward and eastward and westward, 15 for all the land that you see I will give to you and to your offspring forever. 16 I will make your offspring as the dust of the earth, so that if one can count the dust of the earth, your offspring also can be counted. 17 Arise, walk through the length and the breadth of the land, for I will give it to you." 18 So Abram moved his tent and came and settled by the oaks of Mamre, which are at Hebron, and there he built an altar to the LORD.
Last week's sermon—you may recall—was called, "The Folly of Taking Maters into our Own Hands." This week's sermon is called, "The Glory of Leaving Matters in God's Hands." Abram, like the rest of us, spent his life coming in and out of both. Last week (12:10-20) we saw that he tried to go his own way. This week, once again, he acts in remarkable faith. There's a lot that we can learn and grow from as we consider Abram's struggles and successes as he sought to walk in joyful, faithful, obedience to God. It's my prayer (and I hope it will be yours too) that God would help us get everything we can out of this text for His glory.
The Live Stream
Click the Stream Now button to worship with us this week. And download the bulletin to follow along with the liturgy and song lyrics.
Stream the Service Live!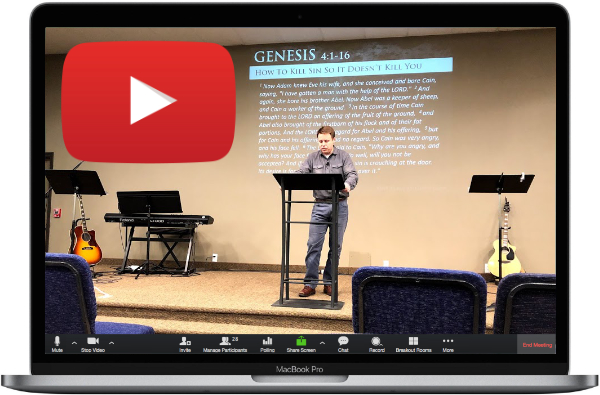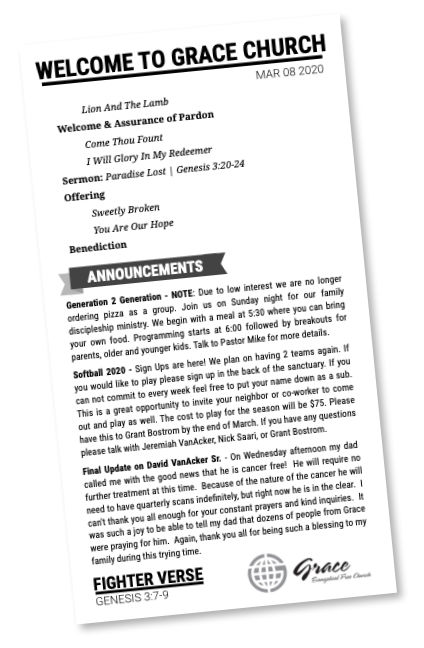 Service Order
WEAP
    READING: Psalm 62:5-8
    Sermon
    Benediction
Memory Verse
Psalm 34:4-5
I sought the LORD, and he answered me and delivered me from all my fears. 5 Those who look to him are radiant, and their faces shall never be ashamed.
Service Times
Prayer
8:45-9:00am

Berea / Sunday School
9:00-9:45am

Worship Service
10:30am-Noon


Berea
We will continue having Berea and it will be online only for now. To allow more time for people who are attending the worship service, we will also go from 9:00-9:45. You can join from the Zoom link which is also found on our website.