MAR 29 2020
HOW TO KILL SIN SO IT DOESN'T KILL YOU (Part 2)
Genesis 4:6-7 / Pastor David VanAcker
6 The LORD said to Cain, "Why are you angry, and why has your face fallen? 7 If you do well, will you not be accepted? And if you do not do well, sin is crouching at the door. Its desire is for you, but you must rule over it."
I've been preaching through Genesis for some time now. In the course of working expositionally through the book, I've stopped three times now to preach topically on different key issues raised by the text: work (2:15), marriage (2:18-25), and now sin (4:1-16). The main thrust of the sermons on sin is that, according to the Apostle Paul, we need to kill it so that it doesn't kill us. To that end, last week, in light of the sins of Cain recorded in first 16 verses of chapter 4, I preached the first of two sermons on killing sin. I argued that the first step to doing so is in gaining an understanding of the nature and process of our sin. And yet, as I also mentioned last week, that's not enough. It's not enough to simply know how sin "works". We also need to know how to put it to death. But again, what does it mean to kill sin? Or, how do we do it? Answering that question is the very practical point of this Sunday's sermon. Let's pray that God would cause us to understand his Word and trust in his promises as it relates to all things, including this—killing sin.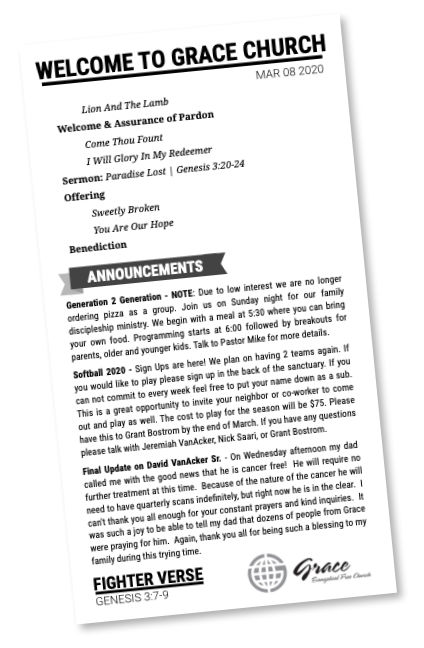 The Bulletin
Follow along while Streaming!
Download this week's bulletin to follow along with the liturgy and song lyrics.
Service Order
WEAP
    Sermon
    Offering
    Benediction
Memory Verse
Genesis 3:14-15
The LORD God said to the serpent, "Because you have done this, cursed are you above all livestock and above all beasts of the field; on your belly you shall go,and dust you shall eat all the days of your life. 15 I will put enmity between you and the woman, and between your offspring and her offspring; he shall bruise your head, and you shall bruise his heel."
Service Times
Prayer
8:45-9:00am

Berea / Sunday School
9:15-10:15am

Worship Service
10:30am-Noon


Berea
We will resume our adult Sunday school time over the Grace Livestream. Join us from 9:15-10:15 as we look at the book of Judges. If you haven't attended, what a better way to get a free sample from the comfort of your own home.