Nov 27 2022
How to Become a Believing Believer
John 3:1-15 / David VanAcker
1 Now there was a man of the Pharisees named Nicodemus, a ruler of the Jews. 2 This man came to Jesus by night and said to him, "Rabbi, we know that you are a teacher come from God, for no one can do these signs that you do unless God is with him." 3 Jesus answered him, "Truly, truly, I say to you, unless one is born again he cannot see the kingdom of God." 4 Nicodemus said to him, "How can a man be born when he is old? Can he enter a second time into his mother's womb and be born?" 5 Jesus answered, "Truly, truly, I say to you, unless one is born of water and the Spirit, he cannot enter the kingdom of God. 6 That which is born of the flesh is flesh, and that which is born of the Spirit is spirit. 7 Do not marvel that I said to you, 'You must be born again.' 8 The wind blows where it wishes, and you hear its sound, but you do not know where it comes from or where it goes. So it is with everyone who is born of the Spirit." 9 Nicodemus said to him, "How can these things be?" 10 Jesus answered him, "Are you the teacher of Israel and yet you do not understand these things? 11 Truly, truly, I say to you, we speak of what we know, and bear witness to what we have seen, but you do not receive our testimony. 12 If I have told you earthly things and you do not believe, how can you believe if I tell you heavenly things? 13 No one has ascended into heaven except he who descended from heaven, the Son of Man. 14 And as Moses lifted up the serpent in the wilderness, so must the Son of Man be lifted up, 15 that whoever believes in him may have eternal life.
In our passage for this week, John recounts the particular story of one of the unbelieving believers. That is, what John stated in principle in 2:23-25, he gave an example of in 3:1-15. In the man, Nicodemus, and his interaction with Jesus, we are given a picture of what unbelieving belief looks like in real life. And in the story of Nicodemus, John provides us with a few signs of unbelieving believers as well as the means to become a believing believer.

Let's pray that God would grant the unbelieving believers among us the ability to recognize the signs of unbelieving belief in order that they may turn from it to believing belief. And let's pray that God would help us to see the manner in which unbelief and unbelieving belief alike are transformed into genuine, saving belief.
The Live Stream
Click the Stream Now button to worship with us this week. And download the bulletin to follow along with the liturgy and song lyrics.
Stream the Service Live!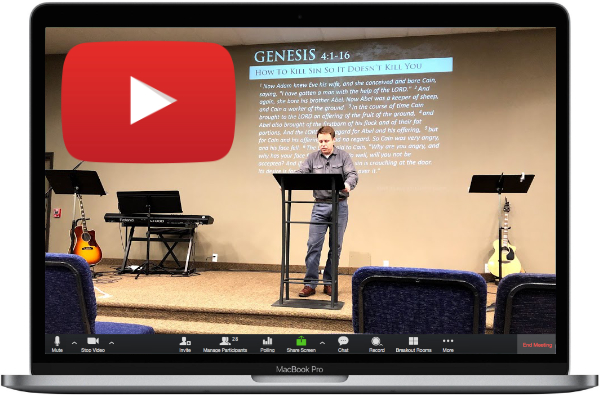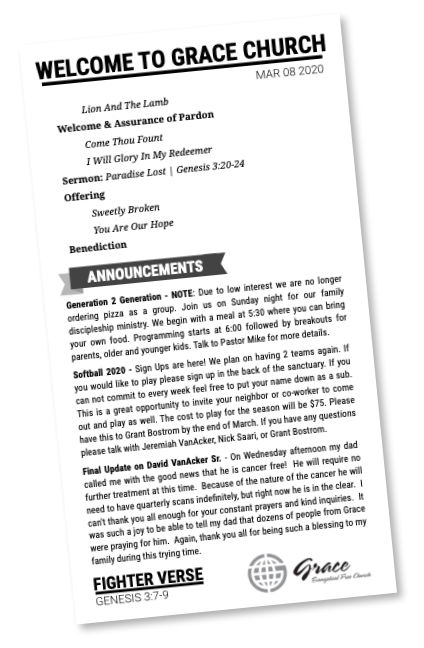 Service Order
    Welcome
Exhortation and Assurance of Pardon
    Reading: Psalm 
    Benediction
Memory Verse
Hebrews 11:6 [And] without faith it is impossible to please him, for whoever would draw near to God must believe that he exists and that he rewards those who seek him.
Service Times
Prayer
8:30-8:45am
Sunday School and Berea
9:00-10:00am
Worship Service
10:30am-Noon


Berea
Join us at 9 for our regular Sunday School classrooms and curriculum. The adults will continue working through our Doctrine course by looking at the Doctrine of God: The Existence of God.