April 2 2023 – Communion Sunday
MANY TURNED BACK BUT SOME BELIEVED
John 6:60-71 / Pastor David VanAcker
60 When many of his disciples heard it, they said, "This is a hard saying; who can listen to it?" 61 But Jesus, knowing in himself that his disciples were grumbling about this, said to them, "Do you take offense at this? 62 Then what if you were to see the Son of Man ascending to where he was before? 63 It is the Spirit who gives life; the flesh is no help at all. The words that I have spoken to you are spirit and life. 64 But there are some of you who do not believe." (For Jesus knew from the beginning who those were who did not believe, and who it was who would betray him.) 65 And he said, "This is why I told you that no one can come to me unless it is granted him by the Father." 66 After this many of his disciples turned back and no longer walked with him. 67 So Jesus said to the twelve, "Do you want to go away as well?" 68 Simon Peter answered him, "Lord, to whom shall we go? You have the words of eternal life, 69 and we have believed, and have come to know, that you are the Holy One of God." 70 Jesus answered them, "Did I not choose you, the twelve? And yet one of you is a devil." 71 He spoke of Judas the son of Simon Iscariot, for he, one of the twelve, was going to betray him.
The main point of this passage continues to be that Jesus will receive all who come to Him, granting them eternal life. But we must also see that (1) all must come to Him on His terms, only His terms, and all of His terms, and (2) that the ability to understand and gladly accept Jesus' terms is a gift of God. This proved too much for many who had set their minds on a different kind of Provider-Savior-King, but to some it was the words of eternal life.
The Live Stream
Click the Stream Now button to worship with us this week. And download the bulletin to follow along with the liturgy and song lyrics.
Stream the Service Live!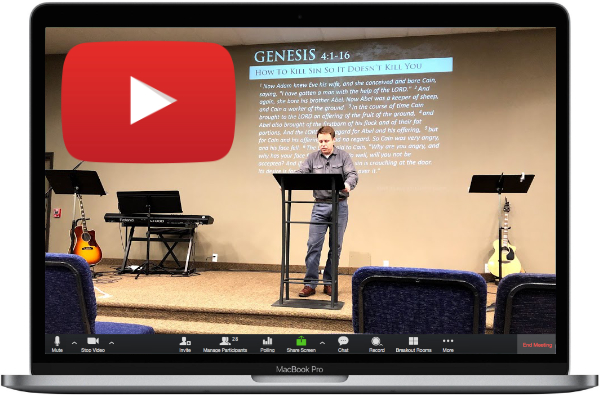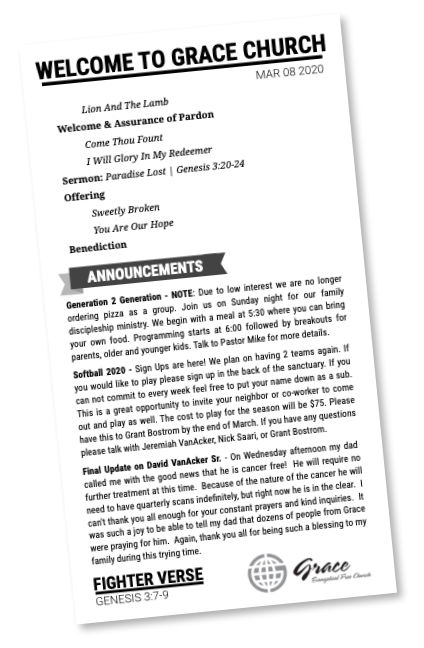 Service Order
Welcome
Exhortation and Assurance of Pardon
    Reading: Psalm 86
    Benediction
Memory Verse
Psalm 96:4-5 For great is the LORD, and greatly to be praised; he is to be feared above all gods. ⁵For all the gods of the peoples are worthless idols, but the LORD made the heavens.
Service Times
Prayer
8:30-8:45am
Sunday School for All Ages
9:00-10:00am
Worship Service
10:30am-Noon


Berea
Join us at 9 for Sunday School of all ages. This week the adults will begin a new section on doctrine: The Creation of Man. Join us, even if you've never attended.