JAN 17 2021
ABRAHAM'S DEATH AND GOD'S SALVATION
Genesis 25:1-11 / Pastor David VanAcker
Abraham took another wife, whose name was Keturah. 2 She bore him Zimran, Jokshan, Medan, Midian, Ishbak, and Shuah. 3 Jokshan fathered Sheba and Dedan. The sons of Dedan were Asshurim, Letushim, and Leummim. 4 The sons of Midian were Ephah, Epher, Hanoch, Abida, and Eldaah. All these were the children of Keturah. 5 Abraham gave all he had to Isaac. 6 But to the sons of his concubines Abraham gave gifts, and while he was still living he sent them away from his son Isaac, eastward to the east country. 7 These are the days of the years of Abraham's life, 175 years. 8 Abraham breathed his last and died in a good old age, an old man and full of years, and was gathered to his people. 9 Isaac and Ishmael his sons buried him in the cave of Machpelah, in the field of Ephron the son of Zohar the Hittite, east of Mamre, 10 the field that Abraham purchased from the Hittites. There Abraham was buried, with Sarah his wife. 11 After the death of Abraham, God blessed Isaac his son. And Isaac settled at Beer-lahai-roi.
As we turn the page from Abraham to Isaac and his sons, the main point for us to keep in mind is this: God would be perfectly faithful to the covenant He made with Abraham, but He would do so in ways no one could have predicted. And from that we catch a wonderful glimpse of the creative, faithful, gracious, omnipotent and triune nature of God. And from that we have more and more understanding of what we must do to be saved and fuel for our worship of our Savior.
The Live Stream
Click the Stream Now button to worship with us this week. And download the bulletin to follow along with the liturgy and song lyrics.
Stream the Service Live!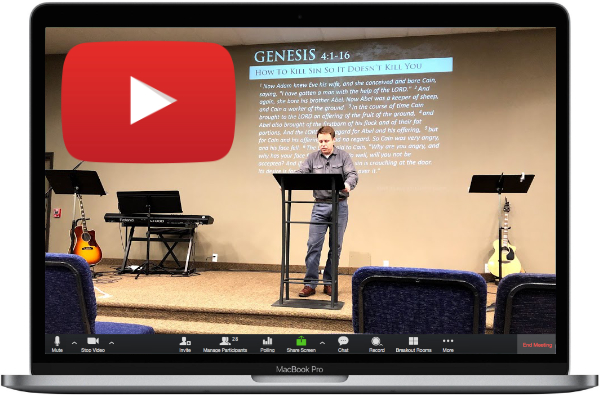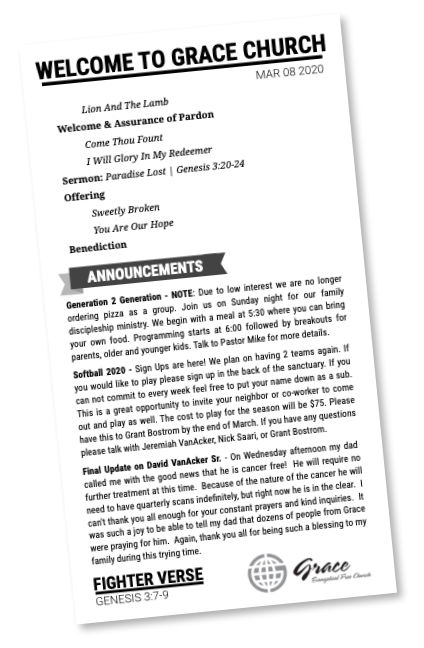 Service Order
Welcome
    READING: Psalm
    Sermon
    Benediction
Memory Verse
Deuteronomy 10:12-13 And now, Israel, what does the LORD your God require of you, but to fear the LORD your God, to walk in all his ways, to love him, to serve the LORD your God with all your heart and with all your soul, 13and to keep the commandments and statutes of the LORD, which I am commanding you today for your good?
Service Times
Prayer
8:45-9:00am

Berea / Sunday School
9:00-9:45am

Worship Service
10:30am-Noon


Berea
We start a new year of Sunday School for all ages at 9am this Sunday. This week we start working our way through the New Testament with the Gospel of Matthew.