JAN 30 2022
HOW TO KILL SIN
James 1:12-15 / Pastor David VanAcker
12 Blessed is the man who remains steadfast under trial, for when he has stood the test he will receive the crown of life, which God has promised to those who love him. 13 Let no one say when he is tempted, "I am being tempted by God," for God cannot be tempted with evil, and he himself tempts no one. 14 But each person is tempted when he is lured and enticed by his own desire. 15 Then desire when it has conceived gives birth to sin, and sin when it is fully grown brings forth death.
Grace, for those of you who long for the righteousness God calls you to, for those of you who are tired of trying to muscle your way out of sin, for those of you who genuinely want to follow Jesus even though your flesh so often pulls so hard in the other direction, this is one of the most significant passages in the NT. In it, James gives Christians two of the most effective weapons available in the fight against sin. The first is one we've already seen in a different form—a proper evaluation of both sin and righteousness and their outcomes. And the second is new in James—a description of the biology of sin. What gifts of grace!
The Live Stream
Click the Stream Now button to worship with us this week. And download the bulletin to follow along with the liturgy and song lyrics.
Stream the Service Live!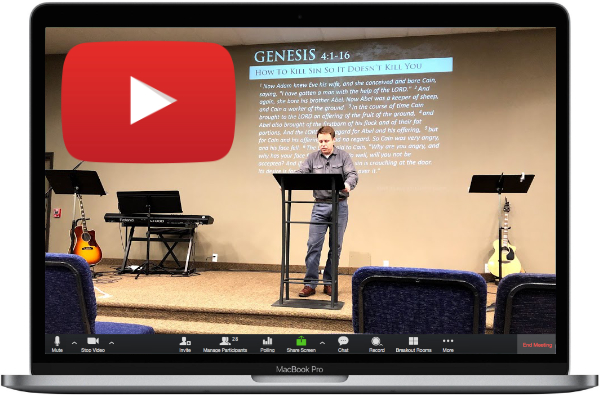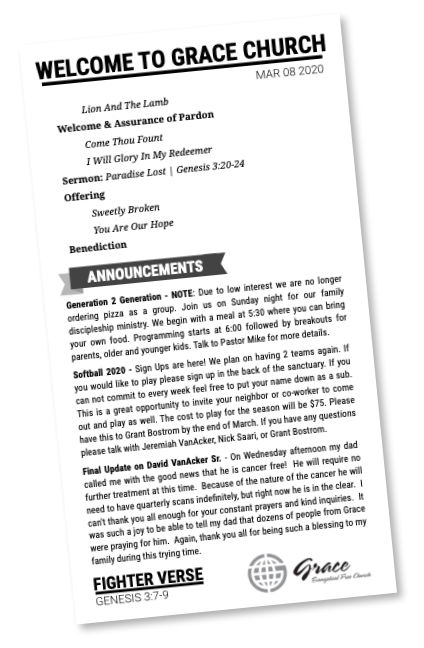 Service Order
    Welcome
    Baptisms
    Exhortation
    Assurance of Pardon
    READING: Psalm 117:1-2
    Sermon
I Will Sing of My Redeemer
    Benediction
Memory Verse
Romans 15:1-2 We who are strong have an obligation to bear with the failings of the weak, and not to please ourselves. ²Let each of us please his neighbor for his good, to build him up.
Service Times
Prayer
8:45-9:00am
Berea
9:00-10:00am
Worship Service
10:30am-Noon


Berea
Join us this Sunday morning at 9am. We have begun our new course on Church History. This Sunday we'll look at the Second Century. Our hope is to grow in our appreciation and understanding of how God has worked through history to build his church, while still gathering each week to know God's Word and see how it applies to our lives. We will be loosely following a book called 'In the Year of Our Lord' by Sinclair Ferguson. Feel free to purchase the book and read along, or just come each Sunday morning and learn with us.