MAY 22 2022
The Cause of And Cure For Church Conflict
James 4:1-10 / David VanAcker, Pastor
1 What causes quarrels and what causes fights among you? Is it not this, that your passions are at war within you? 2 You desire and do not have, so you murder. You covet and cannot obtain, so you fight and quarrel. You do not have, because you do not ask. 3 You ask and do not receive, because you ask wrongly, to spend it on your passions. 4 You adulterous people! Do you not know that friendship with the world is enmity with God? Therefore whoever wishes to be a friend of the world makes himself an enemy of God. 5 Or do you suppose it is to no purpose that the Scripture says, "He yearns jealously over the spirit that he has made to dwell in us"? 6 But he gives more grace. Therefore it says, "God opposes the proud but gives grace to the humble." 7 Submit yourselves therefore to God. Resist the devil, and he will flee from you. 8 Draw near to God, and he will draw near to you. Cleanse your hands, you sinners, and purify your hearts, you double-minded. 9 Be wretched and mourn and weep. Let your laughter be turned to mourning and your joy to gloom. 10 Humble yourselves before the Lord, and he will exalt you.
Tragically, conflict within the Church is not a new issue within the Church. Two thousand years ago, James was dealing with his own version, for he asked His readers the question, "What causes quarrels and what causes fights among you?". There was quarreling and fighting among the Christians James pastored and he wanted to put an end to it. To do so he shared two main things with them: (1) The cause of the conflict (their sin), and (2) The cure for the conflict (God's grace). What precious gifts these were and are. Let's pray that we'd see both clearly in the text and work diligently to put them into practice.
The Live Stream
Click the Stream Now button to worship with us this week. And download the bulletin to follow along with the liturgy and song lyrics.
Stream the Service Live!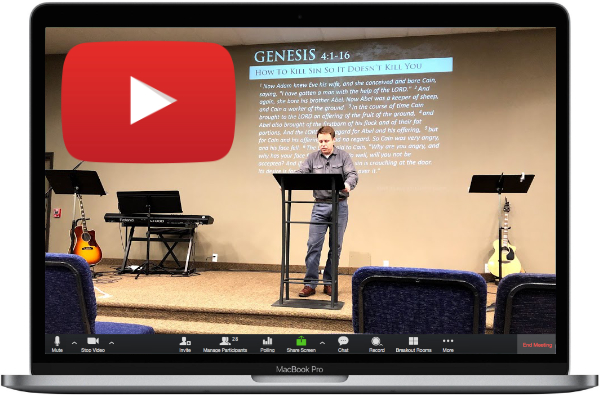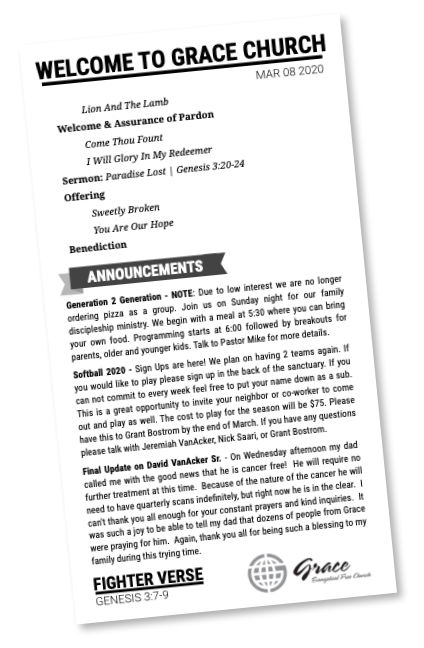 Service Order
   Welcome
   Exhortation and Assurance of Pardon
   Reading: Psalm 95:1-7
   Sermon
   Benediction
Memory Verse
Galatians 5:24-25 And those who belong to Christ Jesus have crucified the flesh with its passions and desires. ²⁵If we live by the Spirit, let us also keep in step with the Spirit.
Service Times
Prayer
8:30-8:45am
Sunday School
9:00-10:00am
Worship Service
10:30am-Noon


Berea
Join us for Berea at 9am as we continue our march through Church History. Sunday school is also available for kids of all ages. This is the final week of our normal Sunday School year. We will take next week off and resume on June 5th.