AUG 14 2022
Bring Sinners Back
James 5:19-20 / Pastor David VanAcker
My brothers, if anyone among you wanders from the truth and someone brings him back, 20 let him know that whoever brings back a sinner from his wandering will save his soul from death and will cover a multitude of sins.
In our passage for this morning, James gives us one final, specific God-honoring way to love and encourage one another in Jesus: bringing each other back from sin. This is rarely easy or popular, but James (along with the rest of the Bible) makes plain that it is good and right. My main hope and prayer is that God would use this sermon to do three things: 1) Convince you of, or further solidify in your mind, the biblical basis for confronting sin in one another, 2) Help you to do so in a gracious manner, and 3) Help you to receive that kind of correction in a gracious manner. Let's pray for God's help in all of that and whatever else He has for us.
The Live Stream
Click the Stream Now button to worship with us this week. And download the bulletin to follow along with the liturgy and song lyrics.
Stream the Service Live!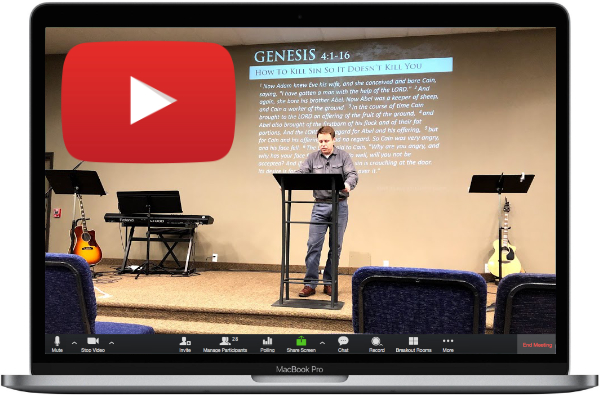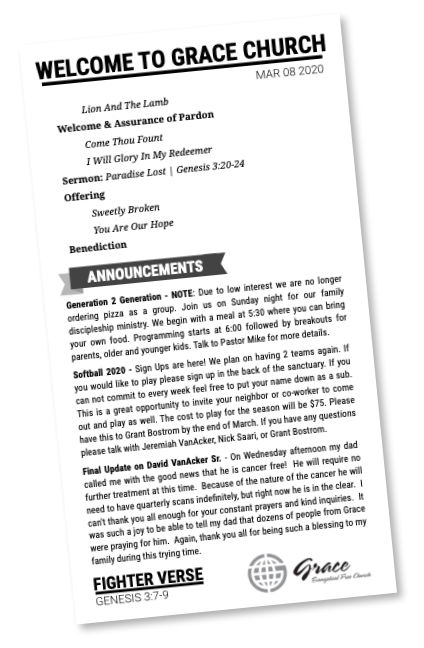 Service Order
   Welcome
Exhortation and Assurance of Pardon
    READING: Psalm 18
    Sermon
Memory Verse
Psalm 91:9-10 Because you have made the LORD your dwelling place—the Most High, who is my refuge— ¹⁰no evil shall be allowed to befall you, no plague come near your tent.
Service Times
Prayer
8:30-8:45am
Berea
9:00-10:00am
Worship Service
10:30am-Noon


Berea
Join us for our Sunday School hour at 9am. If you have never been, come and try it out. The adults will move to the 19th Century (1800-1899). The kids will also be working through Church History this Summer. Be on the lookout for more information about Fall Sunday School, coming soon.